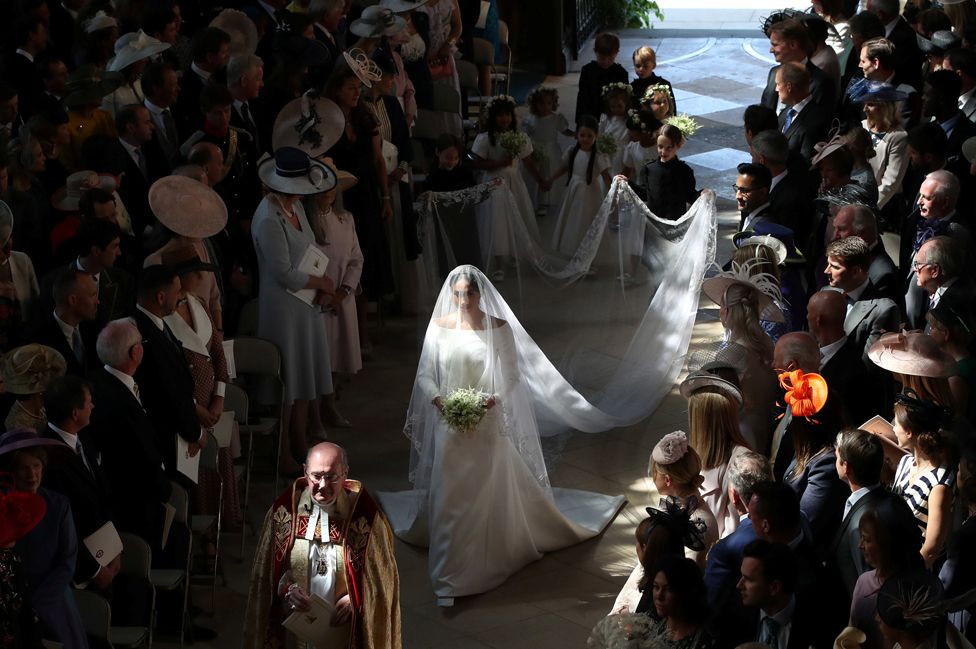 photo credits: BBC/UK.com
What did you think about Megan's veil? Personally, I loved it. I loved her dress and thought she looked beautiful.
5.
The Story Behind That Veil
: Perhaps one of the most breathtaking elements of the day was the 16-foot veil Meghan paired with her Queen Mary bandeau tiara. Made of a delicate silk tulle with a trim of hand-embroidered flowers in silk threads and organza representing the 53 countries of the Commonwealth, the dramatic piece took some 500 hours to make. Workers, including a former Royal School of Needlework student, were forced to wash their hands every 30 minutes in order to keep the tulle and threads clean.

Does anyone know where we can get a close-up of the embroidery?
6.
The Secret Personal Touch
: in
addition to the 53 flora and fauna representing the Commonwealth, Markle also asked that two very personal touches be added to the headpiece. Waight Keller and her team included a Wintersweet, which grows on the grounds of Kensington Palace in front of Nottingham Cottage where the Duke and Duchess of Sussex reside, and a California Poppy, the official flower of Meg's home state, on the veil as a nod to the bride's heritage
Goodness, what a clever idea that was. I wonder where the idea came from, or what her inspiration was for that?